FrontPage Templates & Themes
Our website provides FrontPage themes & FrontPage templates for Microsoft FrontPage 2000 & 2002. Whether you're looking for pre-made FrontPage templates, a custom template design, or Ecommerce templates built for FrontPage, you can find them here.
Apache vs NGINX
Use low cost FrontPage Templates and Themes to build a web site in minutes!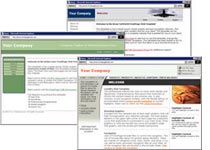 FrontPage Web Templates
You can purchase FrontPage templates for Microsoft FrontPage 2000 & 2002 directly from our web site. Some FrontPage templates cost as low as $15.00 per template! Choose from a wide selection of templates created by a variety of web designers.
View Our Selection
After you've purchased FrontPage templates, you can download them immediately. There's no waiting to get started! You can preview all of our FrontPage web templates in full, including the Flash intros, so you know what you're getting before you buy a template.

09/22/04 -- Added 10 New FrontPage templates that are all Site-Build-It friendly. Also, featuring some great new FrontPage-related products on the right side menu. To view these web template designs, click here.
03/22/04 -- Added 30 FrontPage templates in our all-new shopping cart section, including one new value pack of 17 templates.

FrontPage Secrets Revealed
Are you ready to learn ways to make money using Microsoft FrontPage! This new online course shows you how to transform your FrontPage 2000 / 2002 web site into a new stream of revenue.

FrontPage Templates & Themes -- Web Site Resources:

Get FrontPage 2002
If you don't currently have FrontPage 2002, you can purchase it from this site or upgrade from a previous version. Also, Microsoft FrontPage 2002 comes with several FrontPage themes that are of good quality.

FrontPage Hosting
The next step after creating a site with your template is finding a good host for it. We list some low cost web hosting providers that all support 2000 / 2002 hosting extensions. We also list a very good hosting provider for Windows 2000 if you use ASP hosting.

Ecommerce Templates
A quick overview of Ecommerce templates and shopping carts that integrate with FrontPage. We include a couple that are very easy to use, quick to setup, and that are 2000 / 2002 compatible.

FrontPage Themes
Finding a good FrontPage theme can be a difficult task, but not an impossible one. We've listed some of the best themes for you.

FrontPage Tools
Take a look at some of the commercial add-ins that make it very easy to add advanced functions to your web site.

FrontPage Tutorials
We primarily focus on tutorials for using a FrontPage template or theme with your web site, but provide links other tutorials.

FrontPage Training
There are several informative, and easy-to-use FrontPage training books for both Microsoft FrontPage 2000 & 2002.

Related Links
Links to other FrontPage related web sites that offer FrontPage hosting, tutorials, add-ins, web design and marketing.